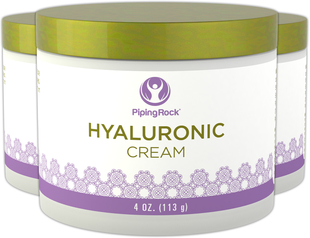 Hyaluronic Cream, 4 oz (113 g) Jar, 3 Jars
List Price:
TZS Sh 58,369.07
Our Price:
TZS Sh 43,656.11
(25% Off)
You Save:
TZS Sh 14,712.96
What is Hyaluronic Acid?
A hydrating and lubricating gel-like substance, hyaluronic acid is naturally found in your skin, where it binds with water to add plumpness. It also supports whole-body mobility and comfort, but hyaluronic acid is perhaps most popular for promoting supple, youthful-looking skin... which is where our Hyaluronic Acid Wrinkle Cream comes into play!
What does Hyaluronic Cream do?
Piping Rock's Hyaluronic Acid Wrinkle Cream for skin has been specially formulated to deliver the nutrients necessary to support your skin's natural elasticity, soft texture, and divine youthfulness that begs to be touched. Take on the world face-first with a reinvigorated sense of confidence and beauty! This non-greasy formula is suitable to wear underneath make-up and sunscreen.
About Piping Rock's Quality:
You've found your One-Stop-Shop for Beauty & Personal Care at Piping Rock. Our products are perfected with premium-sourced ingredients and created in our own "GMP Certified" manufacturing facilities. We verify Piping Rock products with third-party, FDA-registered agencies to ensure quality & purity. Each product goes through hundreds of checks, in-process and post-production. Furthermore, we can assure you that everything that is on our label is consistent with our formulas. We guarantee purity, potency, safety and innovation in everything we do.
Other Sizes
Related Products